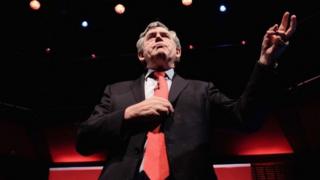 Former PM Gordon Brown is to tell Labour voters they have the "most to gain" if the UK stays in the European Union, as the party seeks to rally its supporters behind the Remain campaign.
In a speech later, he will say the EU can deliver policies close to their concerns including tackling corporate tax avoidance and creating jobs.
Mr Brown will make what he is calling the "positive" case for staying in.
Vote Leave has dismissed what it called a "hastily cobbled together relaunch".
Mr Brown will argue that issues regarding the environment, cutting energy bills and enhancing workers' rights are all best achieved from being at the table in Brussels.
He will also say fears over the impact of foreign workers on local communities would be better addressed by insisting on more money to boost stretched public services than ending free movement rights.
The UK would be "in pole position" to champion change when it takes the rotating presidency of the EU in 2017, he will say.
"From now until 10pm on 23 June we will not rest and I will not stop explaining why nine million Labour voters have most to gain from remaining in the EU," he will say.
Mr Brown – whose late intervention in the Scottish independence referendum was considered an influential factor by some observers – will set out his message in a speech in Leicester.
---
Analysis
By Iain Watson, BBC political correspondent
Privately, Labour In are calling it a relaunch. The cross party Britain Stronger in Europe say it's a "Labour fightback". One insider even called it "a pivot".
But whatever term you use, it is clear that the tone of the Remain campaign will look and sound different this week.
Look different – because research from Loughborough University suggests that David Cameron and Boris Johnson have had more coverage than any other politicians so far, and this week more senior Labour figures, past and present, will be evident.
Sound different – because while warnings about the risk of Brexit have had some impact, Labour's own focus groups suggest that some potential Remain voters want more positive reasons for casting their ballot.
As one insider put it: "Project Fear was in danger of turning into Project Failure" and "some people just won't be scared into the polling booth".
---
At a separate event, the shadow foreign secretary Hilary Benn will make what he calls the "patriotic" case for co-operating with other nations.
'Defining moment'
Mr Benn will use a speech to say the Leave camp "sound as if they mourn for the bygone age in which Britain gained influence through military strength and Empire.
"In the second half of the 20th century, we came to realise that it was far better and far more effective to be a global power that achieved its goals through co-operation rather than conquest."
He will add: "We have now reached the defining moment in this referendum. The Brexit train is threatening to pull away from the station with Nigel Farage, Boris Johnson and Michael Gove in charge, taking us down a track that can only lead to disaster."
But the Labour MP Gisela Stuart – who chairs the official Leave campaign – said that her party's voters "have now seen through government spin and no amount of hastily cobbled together relaunches" would change that.