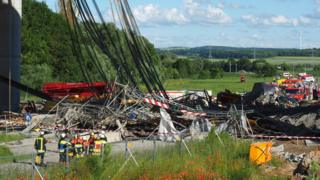 A scaffolding collapse on a bridge under construction in northern Bavaria has killed one worker and seriously injured six more, police say.
A 40-metre (130ft) newly-built section of the bridge, as well as scaffolding around it, fell 20 metres onto workers, said police spokesman Bjorn Schmitt.
It was not immediately clear what caused the accident, which happened on Wednesday near the town of Werneck.
There are thought to have been around 20 workers on the site at the time.
Initial police reports suggested at least two people had been killed.
Mr Schmitt said he could not rule out the possibility there were workers buried under the wreckage of the scaffolding.
The bridge, which dates back to 1965, is undergoing renovation.