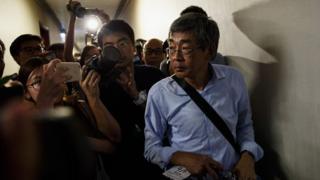 One of five Hong Kong booksellers who disappeared last year says a confession he made for "illegal trading" was forced.
Lam Wing Kee was seized in the Chinese city of Shenzen last October.
He and the four other men worked at a publishing house that sold books critical of China's leaders.
Mr Lam said a confession broadcast on Chinese television in February, featuring four of the men, had been scripted.
"It was a show, and I accepted it," he told a news conference on Thursday, according to the South China Morning Post.
"They gave me the script. I had to follow the script. If I did not follow it strictly, they would ask for a retake."
Four of the men from Mighty Current publishing house, Gui Minhai, Lui Bo, Lam Wing Kee and Cheung Jiping, gave details of their alleged offences during their appearance on Phoenix TV in February.
Lam Wing Kee returned to Hong Kong on Tuesday.
Some people in Hong Kong believe the four were detained by China because of a book about President Xi Jinping.
They said they had sold 4,000 "unauthorised" books to 380 customers in mainland China, Phoenix TV reported.
Public confessions have long been a part of China's criminal law, but experts say many confessions are forced.
---
Mighty Current publishing house disappearances
1. Lui Bo, general manager, went missing in Shenzhen, 15 October 2015
2. Cheung Jiping, business manager, went missing in Dongguan, 15 October
3. Gui Minhai, co-owner, disappeared in Thailand, 17 October
4. Lam Wing Kee, manager, was not seen from 23 October – he says he was take in Shenzen
5. Lee Bo, shareholder, went missing in Hong Kong, 30 December