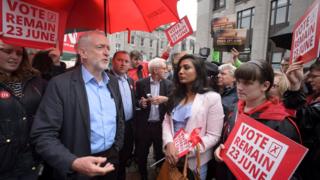 Jeremy Corbyn will issue an urgent call to the "whole Labour movement" to campaign to keep the UK in the EU.
Flanked by his shadow cabinet, the Labour leader will warn jobs and workers' rights could be threatened by a Leave vote on 23 June.
In a co-ordinated attempt to bring Labour voters on side, union leaders will also warn of public sector cuts.
But Vote Leave said immigration put pressure on public services and could not be controlled from inside the EU.
The UK votes on whether to remain in the EU or to leave on 23 June.
The Remain campaign believes Labour voters are crucial to winning the referendum, but it is concerned that many may not turn out to vote – or may support Brexit.
Speaking the day after ex-leader Gordon Brown attempted to galvanise the party's supporters, Mr Corbyn will say it is "in the interests of the people of this country" to "make Labour's case to remain in the European Union and bring reform to strengthen workers' rights".
Speaking at the TUC's headquarters, he will add: "That's why today I am issuing a call to the whole Labour movement, to persuade people to back Remain to protect jobs and rights at work.
"We have just nine days to go to convince Labour supporters to vote Remain."
Most Labour MPs support a vote to remain in, but Mr Corbyn has been accused of not being fully engaged with the campaign.
Meanwhile, leaders of some of the country's biggest trade unions, including the TUC's Frances O'Grady and Len McCluskey of Unite, have signed a letter saying they are worried leaving the EU will be "a disaster for working people".
Another letter, signed by 60 past heads of the UK's medical royal colleges and the British Medical Association, say the UK benefits from EU-wide action on infectious diseases and access to new medicines.
And a collection of former ministers and other senior Labour politicians, including former home secretaries Alan Johnson, Charles Clarke and Jacqui Smith, claim 525,000 public sector jobs could be lost if a recession is triggered when the UK leaves the EU.
In a joint statement, they said: "Britain's vital public services like the NHS rely on a strong economy and continued investment.
"But if we leave, the shock to our economy could see a £40bn black hole in our public finances that would hobble our public services and affect workers on the front line."
Leave campaigners have frequently accused Remain of "scaremongering" through its warnings about the consequences of an EU exit.
Vote Leave says the Stronger In campaign has "no answer" to the pressure it says the NHS is under due to rising migration.
Labour MP and Vote Leave chairwoman Gisela Stuart said: "The EU is bad for the NHS.
"Public services face pressure from immigration that we cannot control, while rules dictated from Brussels put the interests of bureaucrats ahead of those of patients."
She also said the proposed trade deal between the US and the EU was a "clear and present danger to keeping the NHS in public hands".