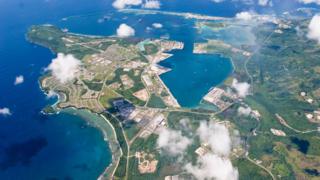 US Secretary of State Rex Tillerson says there is no imminent threat from North Korea, despite Pyongyang saying it was considering strikes on the US Pacific territory of Guam.
Flying into Guam, Mr Tillerson also defended President Donald Trump, who has threatened Pyongyang with "fire and fury".
He said Mr Trump just wanted to send a clear message to North Korea.
But the president has since boasted on Twitter about the US nuclear arsenal.
In early morning tweets post from New Jersey, where he is holidaying, Mr Trump said that the US nuclear arsenal was "more powerful than ever before", but added he was hopeful "we will never have to use this power".
The tweets came after escalating rhetoric between the two sides sent global stocks down, with the island of Guam – home to US military bases, strategic bombers and about 163,000 people – the focus of attention.
Stopping in Guam for a refuelling stop after a trip to South East Asia, Mr Tillerson said he was hopeful a global "pressure campaign", involving both Russia and China, could lead to new dialogue with Pyongyang "about a different future".
He defended President Trump's earlier language, saying that North Korean leader Kim Jong-un did not understand diplomatic language, and a strong message was needed that he would understand.
"I think the president just wanted to be clear to the North Korean regime that the US… will defend itself and its allies," he said.
The top US diplomat added the situation had not dramatically changed over the last few days, and that Americans "should sleep well at night".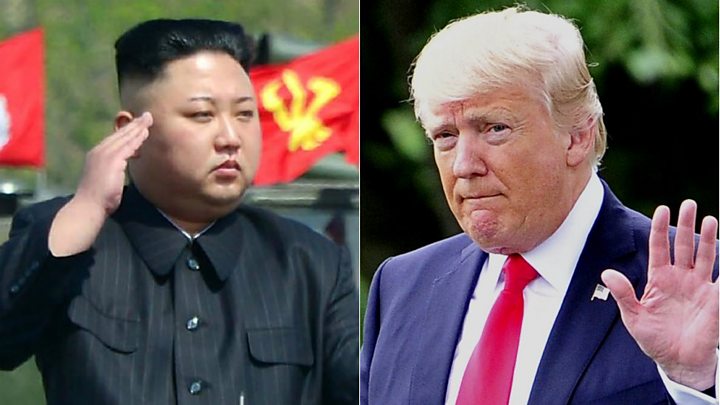 Earlier, the official KCNA news agency said North Korea was "carefully examining the operational plan for making an enveloping fire at the areas around Guam" using its domestically made medium-to-long-range Hwasong-12 missiles.
The news agency reported a military statement issued on Tuesday, which probably came in response to US military drills in Guam.
But in a message to the public, the governor of Guam, Eddie Baza Calvo, said there was currently "no threat" to the island and the Marianas archipelago, but that Guam was "prepared for any eventuality".
---
Analysis: Tillerson gets his broom out
by Anthony Zurcher, BBC senior North America reporter
As Donald Trump made his "fire and fury" threat against North Korea, the lone camera in the room zoomed in for a tight shot. It would have been telling to see the effect those words had on his advisers.
Did they nod knowingly or look surprised? Was this part of the plan or an off-the-cuff presidential remark they'd have to clean up?
A day later and thousands of miles away, Rex Tillerson had out his mop and broom. The secretary of state said Mr Trump was merely reasserting that the US would defend itself if attacked, using language North Korea would understand.
That's not exactly what the president said, however. He warned of retribution if Kim Jong-un continued to make threats – punishing words with action.
It could simply be unfortunate phrasing from a man who is sometimes loose with words. Mr Tillerson would not be the first presidential aide intent on framing Mr Trump's blunt statements in a softer light.
With the president touting US nuclear might and test-firing an ICBM, however, the secretary of state – already considered to have little sway in this administration – may find his efforts at clarification buried in a torrent of bluster.
---
North Korea has continued to pursue its nuclear and ballistic missile programmes despite successive rounds of UN sanctions and Security Council Resolutions.
Pyongyang, which has tested nuclear devices five times, launched two intercontinental ballistic missiles (ICBMs) in July, claiming it now had the ability to hit mainland US.
On Saturday, the UN Security Council unanimously approved further economic sanctions on North Korea, which Pyongyang said were a "violent violation of our sovereignty", warning the US would "pay a price".
Amid the sharp rise in tension, China – North Korea's only international ally – has urged calm.
A foreign ministry statement quoted by Reuters called on all sides to avoid words or actions which might escalate the situation and to make greater efforts to resolve the issue via talks.
On Tuesday, media reports in the US claimed the North had achieved its goal of making a nuclear warhead small enough to fit inside its missiles.
While not confirmed, this was seen as one of the last obstacles to North Korea being a fully nuclear-armed state.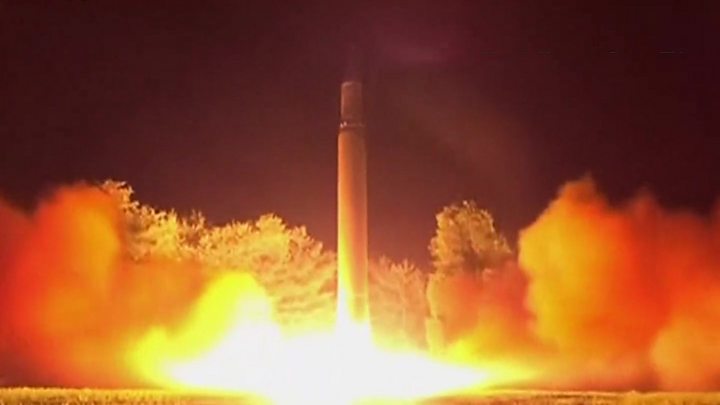 A report in the Washington Post, citing US intelligence officials, suggested North Korea was developing nuclear weapons capable of hitting the US at a much faster rate than expected.
A Japanese government defence paper also said the weapons programme had "advanced considerably" and that North Korea possibly now had nuclear weapons.
North Korea's missile programme explained
In response, President Trump warned North Korea to stop threatening the US, saying they would be "met with fire and fury like the world has never seen".
However, veteran US Republican Senator John McCain was sceptical about Mr Trump's statement, saying he was "not sure that President Trump is ready to act".
Top House Democrat Nancy Pelosi described the president's words as "recklessly belligerent".
---
The tiny but important island of Guam
Guam profile from BBC Monitoring
Get news from the BBC in your inbox, each weekday morning