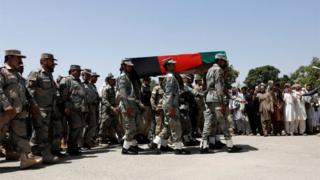 A Pakistani officer has died after being shot by Afghan forces at the countries' main border crossing, the Pakistani authorities say.
Major Ali Jawad Changezi was injured late on Sunday. An Afghan soldier also died and the injured include civilians.
The Torkham crossing has seen a second night of shelling.
Afghanistan objects to Pakistan building a gate on its side which Islamabad says it needs to enforce new visa rules and curb militant activity.
---
Read more:Why Pakistan introduced border curbs