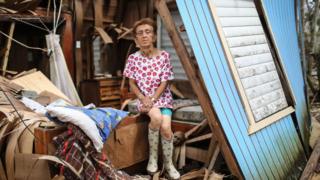 US President Donald Trump has griped about emergency relief efforts in hurricane-ravaged Puerto Rico, saying federal aid cannot continue "forever".
In tweets, he spoke of Puerto Rico's "total lack of "accountability", saying "electric and all infrastructure was disaster before hurricanes".
The island, whose 3.4 million residents are US citizens, is 90% without power three weeks after Hurricane Maria.
Congress is weighing a multi-billion dollar aid package for the territory.
The $36.5bn (£28bn) in emergency relief would go towards Puerto Rico, Florida, Texas and the US Virgin Islands, as well as wildfire-ravaged California.
In Thursday's tweets, the US president noted it was up to "Congress to decide how much to spend".
But he added: "We cannot keep FEMA, the Military & the First Responders, who have been amazing (under the most difficult circumstances) in P.R. forever!"
Puerto Rico is saddled with nearly $72bn in pre-hurricane debt that is being overseen by a federally created oversight board.