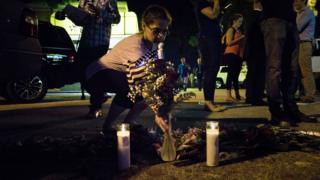 UK police are reviewing security for large-scale public events after the shootings in Orlando, Florida, Home Secretary Theresa May has told MPs.
Mrs May said it was right to examine security for forthcoming Gay Pride celebrations but said there were no plans for events to be cancelled.
She said the attack, in which 49 people died, was "not just an act of terror but an act of homophobic hatred".
MPs held a minute's silence, while vigils will be held across the UK.
Some 600 people have gathered in Glasgow's George Square, where floral tributes and lit candles have been left. A rainbow flag is flying a half mast on Glasgow City Chambers.
A vigil will also begin in London's Soho at 19:00 BST. It is expected to be attended by the new London mayor, Sadiq Khan.
It comes as authorities in Orlando have said that in addition to those killed, 53 people were injured in the attack at the Pulse gay nightclub.
It was the deadliest mass shooting in recent US history and ended with gunman Omar Mateen, who had taken hostages, also being killed.
'Bigotry and violence'
Responding to an urgent question, Mrs May said she was not aware of any British nationals being caught up in the shootings.
The "utterly evil" attack had been "designed to spread fear", she said, adding: "We will not tolerate such bigotry and violence".
The UK has some of the toughest gun laws in the world, she said.
Mrs May also said seven UK terror plots had been disrupted in the last 18 months, all inspired by so-called Islamic State, with the overall threat level remaining at severe.
The Metropolitan Police said it had increased patrols in "prime locations" as well as continuing to work "closely and engage with the LGBT community".
There is "no intelligence to suggest an increased risk in London", the force added in a statement.
On Saturday, 25 June, Pride in London hold their annual parade and related events in central London for the Lesbian, Gay, Bisexual and Transgender community.
Downing Street said Prime Minister David Cameron had written to US President Barack Obama "to underline our shock here and our support for the US people as they deal with this incident".
A Number 10 spokeswoman said the PM was being regularly briefed on the situation.
A spokeswoman for the National Police Chiefs Council (NPCC) said police forces across the country would be reviewing security around events in their areas.